Yogi Bhajan's Arrest and Release on Bail
The following is taken from "Sikhism and Tantric Yoga" by Dr. Trilochan Singh.
I was in Delhi when I read the following news in "Hindustan times" about Yogi Bhajan's arrest and release on bail. The news which appeared in other papers also reads: "Mr Harbhajan Singh Puri, popularly known among his yoga disciples in the United states as Bhajan ji, was arrested last night and later released on bail by Mr A.S. Dugga, Judicial magistrate, New Delhi. A warrant of arrest had been issued against Mr Puri yesterday, a few hours before he was scheduled to leave for the States along with about 40 'American Sikhs' whom he had brought here. He appeared before the magistrate at the latter's residence last night, and moved a bail application. Mr Dugga released Mr Puri on a bail of Rs 10,000 with a personal bond and directed him to appear in the court on March 25. The arrest followed a complaint lodged in the court by a Delhi citizen, Mr Amarjit Singh. He alleged that he had been cheated of Rs 10,000 by Mr Puri. Bhajan ji had taken Rs 10,000 from him on the promise of getting him married to an American girl converted to Sikhism and also getting him a job permit in the U.S.A. The court took cognizance of the offense on the basis of the primafacie evidence and issued a warrant of arrest." (Hindustan Times, March 19, 1971) The film shows the aftermath of the arrest in which Jathedar Santokh Singh is seen sitting on the chair and an American is massaging the soles of his feet to stimulate his glands and treat him for some trouble. It was Jathedar Santokh Singh who helped him to get the bail. Recently Santokh Singh broke away from Akali Dal to give all out help to Mrs Indira Gandhi's dictatorship while the whole Sikh community was pitted against her rule, and with the fall of Mrs Indira Gandhi's regime he and his companions have fallen into the pit of oblivion.
See more photos and discussion on facebook at:
http://www.facebook.com/album.php?aid=108156&id=1214270541&l=5a22781e63
"Amid the legal infighting following Yogi Bhajan's death, critics are offering another portrait of the Sikh leader."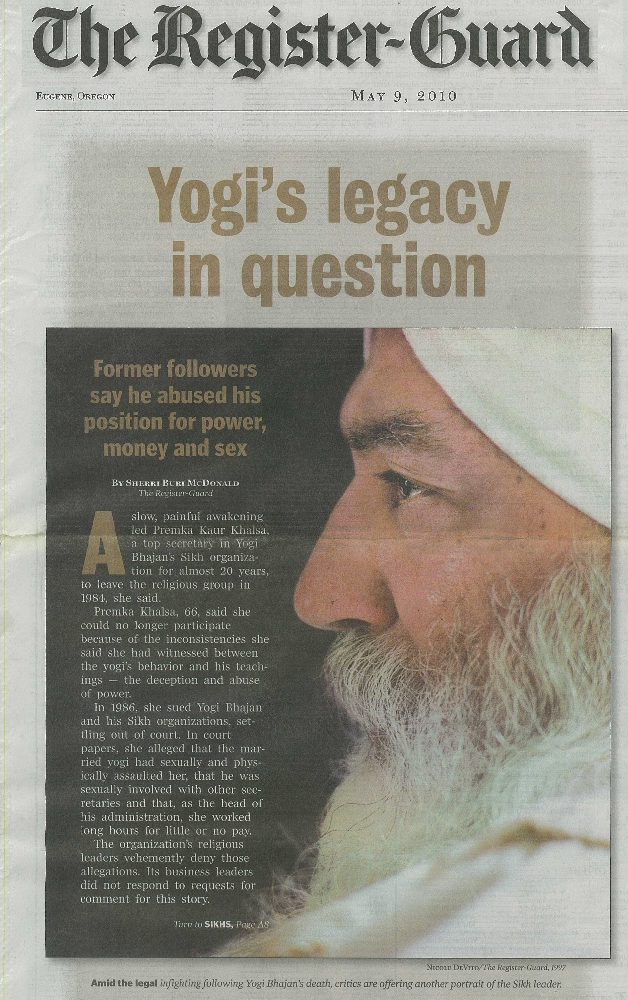 ---