Kartar Khalsa: Sikh or NonSikh
Kartar Khalsa CEO of Golden Temple Foods has cut his hair as shown by this photo. Kartar is a Sikh or nonSikh?
Please read an Excerpt below taken from
"Sikhism and Tantric Yoga"
by Dr. Trilochan Singh (Link to entire book)
The Name of Golden Temple and its Murals
"In England last year a firm advertised some blue jeans as Jesus Jeans. The whole religious world of England rose in one protest and stopped the manufacture of these jeans. The word Golden Temple has become an instrument of commercial affairs of Yogi Bhajan He has now even named shoe stores as Golden Temple. I was given a "Wha Guru Chew.""
"Yogi Bhajan is using the sacred Sikh mantras and the sacred name of Guru Ram Das as a mantle for his Tantric Sex Yoga which will inevitably lead to mental and physical debauchery of those who take his brand of Sikhism contaminated by crazy sex-energizing asanas seriously."
Many of these 3HO profiteers have cut their hair and renounced Sikhi! See these pictures below of Kartar Khalsa CEO of Golden Temple Foods and chairman of Yogi Bhajan's "Unto Infinity Board" who has cut his hair and is no longer a Sikh.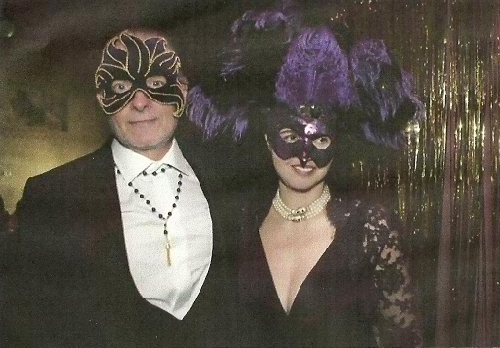 (Is it any wonder that Kartar and Peraim, members of Yogi Bhajan's "Unto Infinity Board",are wearing masks in the above photo?)http://cirrus.mail-list.com/khalsa-council/Kartar-Peraim.2-10.jpg

Cereal, tea and yoga Cover story
Kartar Khalsa embraced Sikhism at OSU and soon was living in an ashram in Eugene; that's where Golden Temple was born
By Sherri Buri McDonald
blue chip
Appeared in print: Monday, Oct. 5, 2009, page K15________________________________________
Every morning, Kartar Khalsa, CEO of the Eugene cereal and tea manufacturer Golden Temple, rises before dawn. The lean 58-year-old spends an hour to an hour and a half meditating, and doing yoga and relaxation exercises.
"I got up at 4 a.m. this morning because I had to drive down from Portland," he told blue chip recently. "I used to do that all the time. But now it's more like 5 or 5:30. It's nice to do it when it's still dark out and most people are not up. It's just kind of a quiet time."
Khalsa, né Tom Burns, was in his early 20s and an engineering student at Oregon State University, when he discovered yoga. That was during the political and cultural upheaval of the late 1960s and early 1970s.
Just one credit hour short of earning his engineering degree, Burns, the son of a Portland foundry owner, abandoned his plans to join the family business — and his Catholic upbringing. He embraced the teachings of Yogi Bhajan, an Indian-born guru who died in 2004.
Bhajan's brand of Sikhism, which emphasizes kundalini yoga — typically a Hindu practice — ultimately attracted thousands of followers.
Burns was drawn to Eugene in 1973 to live in the budding yoga community here and to help build a new natural foods venture. Also that year, at Burns' request, Yogi Bhajan gave him a new name: Kartar (pronounced kah-TAR) Singh Khalsa. Kartar means "God the creator is the doer of everything."
Khalsa was among a handful of Sikh believers living in a Eugene ashram who started a bakery in the back of a natural foods store in Springfield in 1973. From the beginning, the business was meant to reflect their beliefs in natural living and to be a financial support, Khalsa said.
Several decades later, that fledgling venture has grown into Golden Temple Foods, an international enterprise with 330 employees in Eugene and 100 in Europe. It has annual revenues of about $125 million.
Golden Temple is a division of KIIT Co., a Sikh-owned holding company based in Nevada. The privately held company does not release the names of its shareholders or information about executive compensation.
Since 1987, Golden Temple's headquarters have been at a 130,000-square-foot plant at 2545 Prairie Road in Eugene. The company also operates a 35,000-square-foot tea plant at 950 International Way in Springfield.
Its Yogi brand herbal teas are the No. 1 natural tea in the United States and Europe, Khalsa said. And Golden Temple is the top-ranked supplier of bulk granola in the United States, he said.
"We have about 60 percent market share of bins of granola at natural food stores and grocery markets," Khalsa said.
The company also manufactures its branded products, Peace Cereal and Sweet Home granola, as well as private-label cereals for a variety of customers.
Khalsa lived in Eugene from 1973 to 2007, with a brief stint in Salem from '75 to '78. For the past two years he has split his time between Eugene and Portland. He has three grown sons.
Question: What was it like when Golden Temple was just starting in the early 1970s?
Answer: Well, it was a lot of fun. We were young and lived together in a community, so our financial needs were not great. We were providing ourselves room and board and some amount beyond that, but we were pretty dedicated. So there was a lot of sweat equity in the business.
Question: What were some of the jobs you've done throughout your career with Golden Temple?
Answer: We started the bakery here. Then, shortly thereafter, one of the people that started that went to Salem to open up a yoga center in Salem, and then we started a natural foods distribution (business) in Salem. So I spent a year here and on my days off I'd go with him on his truck routes. Then I went to Salem, and we started building that business.
By the early to mid-'70s we had a natural foods distribution business out of Salem and the bakery here in Eugene. We opened a Golden Temple Natural Foods restaurant in Salem. And we had a Golden Temple Natural Foods retail store on Alder in the university area, between 13th and 12th. I think it's where Sy's pizza is.
Question: Where did all the capital to start those ventures come from? Did it come from the larger spiritual community that you were connected with?
Answer: It came from sweat. It just came from Golden Temple — from what we were generating in the business.
One of the funny stories was we started out baking bread. Then when we moved to Second and Blair, we had some friends who had a granola business. It was a couple, and they decided they didn't want to do it anymore. I think we bought the business for $50.
Question: What did you buy for $50?
Answer: A granola recipe. ... We named it "golden granola." That was really the beginning of our cereal business.
Question: When you say "we," it was you and who else?
Answer: The ashram here, the spiritual center. There were probably a core of maybe a dozen people who worked in the business in Eugene.
Question: Was there a leadership group who made purchasing decisions and kept track of the money?
Answer: In 1973 we were incorporated. So we had somebody who was president and vice president and controller. So we would have meetings and make decisions.
Question: What was your title at that time?
Answer: I can't even remember. I just loved being out driving trucks, so it was hard for them to get me off of that. That was just more fun than being stuck in the office.
When they said, "Come on, you've got to come in and do this," at that point I probably got more into it financially. I (became business partners with) the guy who was running the distribution business. That was Cameron Healy, who at the time had a Sikh name. He went on to (found) Kettle Chips and Kettle Foods, which (sold to a London-based investment group in 2006). He and I are still friends.
We used to be the largest distributor of this product called Haiku juice that came out of Hawaii by a company called Prasadam, which I think was linked to Hare Krishna, which is similar to us (in that) they were a spiritual group that had a company.
(I told Healy), I think I figured out why we are the largest distributor of this product anywhere because I just determined that we sell it for a dime less a case than it costs us. But, don't worry, we'll make it up in volume.
Question: Were you in a leadership role at the start, and then stayed in that as Golden Temple grew?
Answer: We didn't think of it that way. But I was one of the people who started it. I was basically in one of the leadership roles. We started the bakery in '72-'73, then we started a distribution business in Salem, and then by '77-'78 we had just gotten overexpanded and had to reorganize. So I came back to Eugene and was really the general manager of the bakery operation. We actually sold off the wholesale (business) and started concentrating on the cereal business.
Question: When you say over­expanded, do you mean in product, or in the regions where you were distributing?
Answer: The people we bought the granola business from for 50 bucks, a few years later we bought their distribution business for I can't remember how much. But we literally went from 'X' to '5X' overnight. That's no exaggeration.
We were young. We were all in our 20s, and bigger was better. The financial guy, who's still around, would say, "I don't think that's a good idea."
We said, "Ah, come on. Forget it. This is right. We don't care what the numbers say. Let's go."
Question: What made you realize that it wasn't working and you needed to reorganize?
Answer: We started running out of money to pay the bills.
People would say you should just go bankrupt, and we said, "Nah, it just doesn't feel right to us."
So we got everybody to agree, and we set up debt repayment to all the suppliers over three years. We made every payment on time. That really became the majority of my job for three years after that, from about '78 to '81.
Question: That doesn't sound like much fun. What kept you going through that period?
Answer: I guess just commitment to our ideals. We started this, and we were going finish it. And there was potential in this. We just needed to get ourselves back to a place where we were solid financially. I suppose it was lot of learning by hard knocks.
Question: So what did you learn from that time?
Answer: That bigger wasn't necessarily better. You needed to make sure that whatever you were taking on, you could handle financially, and that you could actually create a profit and be able to manage that.
Question: Were there other times in your leadership of Golden Temple that you remembered that lesson?
Answer: In the late '80s. There was the cereal business here and there was an associated business in L.A., which was the tea business, Yogi Tea, and then the body care business called Sunshine. We took those and put all of those together. So that took some time to digest.
Question: What happened to the body care line?
Answer: We sold that off to a couple people in our broader organization. I think then we started to understand that we needed to have a tighter focus. We had a lot of potentials and opportunities, but we needed to focus on a few of those and then put our energy there and maximize the opportunities.
Question: You were raised in Portland where your father ran a foundry. What was your background growing up?
Answer: I suppose upper middle class. As kids you don't even think about that. All of our friends, probably their parents, were involved in business somehow, or professionals.
Question: Did you have any spiritual or religious background?
Answer: Yeah, I was raised Catholic. I went to 12 years of Catholic School. I went to Jesuit high school and from there to Oregon State.
I went to school with one of the McMenamin brothers — Mike, (co-founder of a string of microbrew pubs and historic hotels in Oregon and Washington.)
(Our) parents knew each other and (his mother) wanted him to be a lawyer and (my mother) wanted me to be a doctor, and they looked at us doing our own little businesses. And years later they said, I guess it turned out OK.
Question: What is your educational background? Did you end up getting a degree from OSU?
Answer: Almost. I'm like one hour short. After I (left school), then before (having) kids, I'd gone back and (asked a university official), "OK, how can I graduate?" At first, the guy goes, "No you can't do that," and finally he goes, "Well, we'll put this together and that together, so all you need is one hour of upper division. Why don't you just get the remaining credit at the UO?"
That was 30 years ago, and I still haven't.
But I grew up in a business family. My grandfather had started a foundry business in Portland around World War II. He had businesses in the state of Washington and then started (the foundry in Portland). My father and uncle ran that, so I grew up in that with the idea that I would end up being an engineer — that's why I started school at Oregon State — and run the business.
Because my father and uncle had business and sales experience, but they were not engineers, they wanted me to be the engineer. (That was the plan) since (I was) 6 or 7 years old. You know in first or second grade they'd ask you what you want to be when you grow up, and I'd say I want to be an engineer. "You mean a train engineer?" And I'd go, "No, I mean a real engineer."
Question: What did your family think about your decision to leave college and move to Eugene?
Answer: I'm sure they had their angst about my personal life decisions. My dad at various times would try and say, you know, "Look, I'll give you this and set up a foundry for you," or whatever.
But then in '74-'75 there was a fairly deep recession, and they went out of business. So I kind of go, hmm, well, it might not have been very long-lived for me if I had decided to stick to that.
Question: Why did you leave engineering and get involved in the natural foods business?
Answer: I got to college in the late '60s, early '70s. As you expand in college and your mind opens up, and with what was going on and the changes in whole social fabric in the '60s and the '70s, I just go, hmm, maybe there's something else to do besides this.
What led me into business was really moving in my personal desire to meditate and do yoga. Then I ended up getting involved in the business.
Question: Had you had any business courses, or was your background only in engineering?
Answer: I took one accounting course in college, but it just seemed that (the business) part came fairly natural. Looking back ... there's just a lot of inherent things when your family is in business that I didn't even think about.
Question: Can you think of any examples?
Answer: I enjoyed what my father and uncle did. I was involved when I was young, and I started working there in the summers as soon as I could, and any chance I could.
I knew businesses from the ground up. I did all the production jobs. I knew how to get at the base level business and understand that.
That was my sense even when I was young that I wanted to learn the whole business because if I was going to run it, I wanted to know what the people on the floor were experiencing and not do it from on high or from some kind of tower without really understanding what happens on the ground level. That's really how I like to train people here.
Because of the spiritual organization that we were associated with, we would have people sent to us by our spiritual teacher (Yogi Bhajan) to put to work and help develop. If I thought there was any potential with somebody, I'd put them in production, and they'd (complain), "Well, you put me in production." That's because I think you have potential. Otherwise we'd just sideline you somewhere else.
If you're going to be successful in business or in management, you better be in a position when someone tells you something, you can say that's true, or not, because of your own experience.
Question: Does your spiritual organization still send you workers?
Answer: No, that was early on. We lived in a spiritual community, an ashram. Then (people) started getting older and getting married and having kids, so they had their own homes. I think it's just evolved over time, so that doesn't happen anymore.
Question: Is your work force mostly Sikh?
Answer: No.
Question: When did that change?
Answer: A long, long time ago. Probably it was like that when we started the business in the early '70s. But I would say by the early '80s we probably had more people that were not Sikhs.
Golden Temple has about 400 employees, so I think less than 10 percent (of the work force is Sikh).
Question: How would you describe the growth of the business? Was it slow and steady, or were there times of rapid growth?
Answer: Somewhere in mid-'80s to early '90s we grew from maybe a few hundred thousand (dollars) in revenue a year to about $10 million. So that seemed like a lot of growth at the time. I think pretty much from there it's been fairly steady growth.
Question: What are annual revenues now?
Answer: On a global basis, I would say roughly about $125 million.
Question: Do you see revenues continuing to grow?
Answer: We would like to see it probably grow two to three times in the next five years. Certainly that's fairly aggressive growth, particularly tripling. But we do see the opportunities to double business in the next five years.
Question: Where do you see those opportunities?
Answer: I think just across the spectrum of our business. We have tea both here in the U.S. and in Europe. We also have cereal here, and we do private label cereal and our own branded cereals. Each one of those areas in each one of the regions really has potential for growth.
In general, probably a common theme to all that growth is natural foods moving into the regular grocery business, into what we call the mass market business, and that's a trend in natural foods throughout the industry. Whether it's here in the U.S., or in Europe, or in cereal or tea, that opportunity exists for all natural food.
Question: You mentioned that the business grew as a result of the founding group's own hard work. When did Golden Temple become part of KIIT Co.?
Answer: That was all kind of organic. We had another large business in our spiritual organization called Akal Security based in New Mexico. Then we decided (in the early 2000s) to put those all under one holding company, which was KIIT.
Question: Is Golden Temple the largest piece of KIIT?
Answer: It depends on how you look at it. Akal by number of employees is much larger, but it's just a whole different business model.
Question: Is there much revenue sharing between the two?
Answer: No. They run separately.
Question: Do the more established organizations help seed other businesses within your spiritual community?
Answer: No, not directly. We, through charitable donations, support our spiritual community, as well as the local community. For Golden Temple in Eugene and Springfield, that's mostly in our work with FOOD for Lane County and the Oregon Food Bank network.
Question: Last year you launched a campaign "Sharing Food, Awakening Goodness," to encourage local businesses to step up their donations to the local food bank. What were the results of that effort?
Answer: In the nine months ending in June, more than 25 companies joined together to boost business giving to FOOD for Lane County by 25 percent. That included contributions of time, money and food and equates to 33,000 meals.
Question: It's relatively rare for somebody to stay with an organization as long as you have. Were there points at which you contemplated leaving, or did for a time? And, if not, what has kept you with Golden Temple?
Answer: The business grew out of, I suppose you could say, a mission, a philosophy of life. So that really hasn't changed, and it's been able to grow, and transition and develop continually, so it's always really kept my interest.
There have been hard times, like the three years we had to pay everybody back. But you learn from those times.
I can remember the (former) CEO of ITT — a huge, (fast-growing) business — said, "Look, when you're young in your career and you have the option of getting paid in experience or in money, always take getting paid in experience because when you make mistakes when you're small, it's easier to recover. If you never have the experience and don't understand and make the mistakes, when you're big you may never recover."
Those times, looking back, have always brought a better understanding of how to go forward and hopefully not repeat the same mistakes.
Question: How would you describe the core mission of Golden Temple. Has it changed? Or is it the same as it was in the '70s?
Answer: It's really the idea that business exists to serve — to serve the community, to serve your customers and suppliers that work with you, and, particularly, your employees and yourselves, in some way that's positive for everybody.
I think something from the spiritual side of our business is that we believe in the universality of everybody. We believe that you should live and earn righteously, and then the big thing is that you should share with others.
I think that's really what's driven Golden Temple and the people who have been here a long time and the managers is that idea of being able to give back to the community and be socially responsible.
We use this motto: "Feel good, be good, do good."
The driving factor in that is the "do-good" part — wanting to give back to the community, wanting to support the community in ways that are financial and in ways that are just with time — being involved in the community.
But that happens if the business, the "be good" part, creates a good profit and shares that. We feel for the company to be good, you have to feel good about it. People have to feel good about working together and being part of the business.
In putting it in a short motto, that's really been what the business has been about from the beginning.
Question: Has there always been a giving-back-to-the-community piece to it, even during the three years that you were paying back your creditors?
Answer: We've had a broader spiritual community that we've helped support, whether it was here in Eugene or beyond that. That pretty much has been consistent. But as we've grown as a company and had more wherewithal, then we've been able to actually do a lot more in the local communities, and particularly all of the work to feed people through FOOD for Lane County.
Question: How much does Golden Temple contribute to FOOD for Lane County?
Answer: Our goal is to donate 1.5 million servings of cereal this year, which is a 13 percent increase over last year.
Question: What have been the pivotal moments during your time with the company?
Answer: The reorganization in mid-1980s. The bringing together of the tea, the cereal and the body care business — that was definitely a pivotal moment in figuring out what to focus on and what not to focus on. And (for the past two years), we have reorganized our whole European side of the business.
Question: What's involved in that?
Answer: It was aligning the (U.S. and European) businesses so they're run much more as one. They had been more loosely associated and run a little more independently, but that was not meeting our (overall objectives). ... So we needed to go in and restructure things, so that the structure was supporting our mission and objectives in a way that was executable (and measurable).
Question: Are you seeing results from that reorganization?
Answer: Yes, we are. I think over the last five years what I've learned is the value of focus. Deciding what you do best and focusing on what you do best, and not trying to do everything well, but doing a few things well.
I don't think that's anything profound, because I think in business that's what you come to. But (we had a business) that was involved in many different types of products and in many different areas ... (with operations in) the U.S. and Europe, and all of that was associated with our spiritual group.
It just brought a lot of different aspects to the business and now (we're) narrowing it down to the ones that are key and making sure that we capitalize on a few opportunities and maximize them.
Question: How would you describe your job now? Is there an average day for you?
Answer: Things have grown to a level where we have extremely competent senior managers. My role is really to spend time with them and to look out in the future. ... On a day-to-day basis, I don't have a lot of things that are pressing me.
It's more making sure that our senior people have what they need to get done what we've set up as our goals.
Question: Do you live here in Eugene or in Portland — or in both?
Answer: Both. I've done that for the past two or three years.
Question: Why do you split your time between both cities?
Answer: A couple of things: We were growing and needed to develop our marketing department. It had been a challenge to hire and get people to locate in Eugene. So after a few tries, we decided that we would open up an office in Portland. (Also) with our Europe operation and some of the changes we've made there, and the more time I spend there, then getting in and out of the country was a lot easier out of Portland.
But the driving factor was really opening our (seven-person) marketing office. I spend probably now the majority of time, if I'm not traveling, in the Portland office. And I'm in Eugene once a week, and then our other senior managers are in Portland either one or two days a week.
Question: How often do you travel to Europe?
Answer: Once a month. That's been steady for the last couple years.
Question: Where are your European operations?
Answer: Our headquarters are in Hamburg, Germany. We always had our biggest sales office and some of our production in Hamburg. But our headquarters (used to be) in Amsterdam. And we have a tea bagging facility outside of Bologna, Italy.
Question: What kinds of economic indicators or business resources do you look at for business guidance?
Answer: We'll get Nielsen data on movement of our products in the marketplaces, and we'll also watch the categories in general to see how those are growing. Other than that, we're not looking at major market indicators. It seems that one way or another we figured out how to grow, whether it's been in a recession or not. But I would say in our history as a company this has probably been the most difficult economics that we can remember. Maybe we're just getting too old. (laughs)
Question: How has your company weathered this recession?
Answer: Fairly well. We had expected to be maybe overall on a global basis up a few percentage points. But I think it will be closer to flat, or slightly down. ... Both retailers and distributors have been cutting back their inventories, so, as a manufacturer, (we've had to) adjust our business.
Question: Do you agree with the folks who think we've reached bottom and are going to start to recover?
Answer: In some ways, yes; in other ways, no. I think in some ways there are some more rough spots to go through or to wring out of the system.
The silver lining, at least for us, is we've reviewed how we do business — where we need to spend money and where we don't. Because of this, we're a lot more efficient. So as the economy starts to grow, our business, as well as other ones, I think, will be substantially profitable.
Question: What has been your involvement with the Eugene Area Chamber of Commerce?
Answer: I've probably been on the board for about 10 years. The business is starting to mature, and I thought it's good to get involved in community and in the business community. Then I had the chair position of the board in 2007.
The board thought the way business should go is a much more inclusive, collaborative way of getting things done — being more dedicated to the community in general, and not just the business community.
We started moving more towards that in '07. So we decided that was just a good start. Normally the chair had just been one year, and (I suggested) that it ought to be more than one year. (I served as chair again) in '08. Now that position is a two-year position, hopefully to provide more continuity.
Question: Was there any kind of education you had to do for the business community? Were there any misperceptions out there about you or about Golden Temple?
Answer: I don't think there were a lot of misperceptions, but I think it's been definitely helpful to be more involved and to get more visibility for Golden Temple.
Question: What do you think is the biggest challenge out there for the Eugene-Springfield business community?
Answer: Making sure that we have a strong economy for the future that's vibrant, that attracts new businesses and that attracts young people.
I think potentially the concern or challenge is that we could end up with a more gentrified community.
I think Eugene has such a great quality of life and such a great opportunity that we really need to make sure that we focus on the assets that we have and somehow figure out how to grow those.
The chamber is involved in helping businesses oriented around health care since that's one of the biggest assets here. (That involves) the university and the health care industry and the cities together all working on a common set of objectives.
see link to Eugene Register Guard article for the entire article
See more photos and discussion on facebook at:
http://www.facebook.com/album.php?aid=108156&id=1214270541&l=5a22781e63
"Amid the legal infighting following Yogi Bhajan's death, critics are offering another portrait of the Sikh leader."